TeleDelta Easy Record
Simple to Use Capture, Recording and Web-Streaming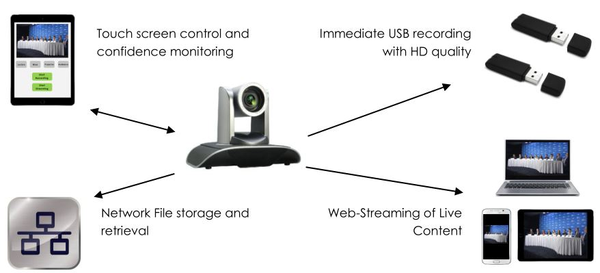 Description
The TeleDelta EasyRecord™ is a fully integrated and simple to use single camera recording and streaming solution. Ideal for house of worship,
funeral venue, boardroom, conference room and training facilities looking for a no-fuss, simple to operate recording and streaming solution.
Fast and flexible the compact EasyRecord™ solution, is easliy deployed in a wide variety of locations. The crystal clear EasyRecord™ HD camera with 20x zoom and smooth PTZ (Pan, Tilt, Zoom) custom presets makes installation and operation fast and simple.
Simply plug-in and start recording / streaming with the EasyRecord™'s simple to use touchscreen app interface, Control the EasyRecord™ operation from your Ipad / Tablet, Mobile or Laptop. EasyRecord™'s unique preview display give you the confidence monitor in your hand as you move around the room.
The EasyRecord™ records in HD quality to take-away USB's and offers live event streaming to your own custom web page.